Jünger Application Manager - J*AM
All current Jünger Audio devices are compatible with the J*AM Application Manager Software, a Windows™ platform that provides network based real time measurement and logging of loudness and true peak values.
As loudness based normalization is rapidly being adopted around the world, broadcasters are required to measure loudness values to ensure compliance with local regulations, and often to maintain a log of historical values should they ever need to respond to questions for viewers or authorities.
The Jünger Audio J*AM Application Manager is a software package that runs on Windows™ and allows for real-time monitoring and measurement of loudness and true peak input and/or output values.
When coupled with the optional Loudness Logger™ license, all measured values can be stored in log files anywhere on the network for future recall. All current broadcast audio loudness standards are supported including ITU-R BS.1770 (1, 2 and 3) and recommended practices ATSC A/85 (2011/2013), ARIB TR-B32, Free TV OP-59, Portaria 354 and EBU R128.
Available as a free of charge download, the J*AM software can be installed anywhere on your network and communicates via Ethernet with multiple Jünger Audio devices simultaneously. An intuitive user interface means that set-up and configuration is straightforward and all currently connected devices are displayed in the main control window. An on screen level meter displays bar graphs of peak input and output for both stereo or 5.1 channel processors along with an indication of the gain changing activity of the leveler, dynamics and limiter sections. In addition, numerical readouts display both short term and integrated (LUFS or LKFS depending on the selected standard) loudness input and output values.
An array of extra features and functionality can be accessed through the addition of the Loudness Logger™ license option. Administered by the use of a USB dongle, a separate window can be opened which displays a live plot of short-term loudness and true peak input/output values. A loudness distribution graph also shows the evolution of pre-treated compared to post-treated signals over time. The license also allows for logging of measured data from all channels of each connected device to a folder location anywhere on the network. The frequency and duration of the log files can be easily customized. The log files themselves are stored in csv format but to aid future interpretation, a comprehensive log file analyzer tool is included. This opens the selected log file and rebuilds the stored data into its original graphical plot format. The date and time stamp makes it simple to look back any specific point within the file. A zoom function allows very precise analysis of the selected region whilst a log file comparator can display two plots simultaneously to allow a side by side direct comparison.
Key Features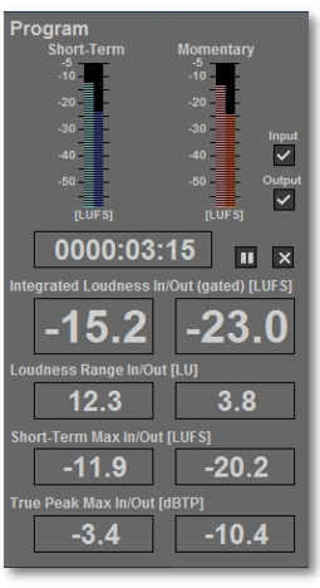 Level Magic™ loudness measurement according to: ITU-R BS.1770 (all revisions), EBU R128, ATSC A/85, ARIB TR-B32, Free TV OP-59 and Portaria 354
User interface for control and communication with all connected devices
Level meter displaying peak input and output bar graphs and processing parameter activity
Optional live plot of input/output loudness and true peak
Optional network based logging and analysis
More Features:
MS Windows™ XP (or later) PC with USB port and network interface required
Recommended hardware: J*AM is running on: Intel AtomN330 1.6GHz, 2GB RAM, 250GB HDD, Nvidia ION, Win 7
Versions & Options
Application Manager Software for D*AP, Compact, C8000 and MMA units
License J*AM - LoudnessLogger™ + Monitor + Analyzer
Applications
Changelog 2.10.19.42350 (2017-08-31):

ATTENTION!

Before installing the J*AM / Loudness Logger software under Windows 10, please download and install the latest Sentinel dongle GUI runtime environment:

https://supportportal.thalesgroup.com/csm?sys_kb_id=61fb0ee1dbd2e78cfe0aff3dbf9619ab&id=kb_article_view&sysparm_rank=2&sysparm_tsqueryId=29c80d7b1bd49410f2888739cd4bcb91&sysparm_article=KB0018320

Installing the J*AM / Loudness Logger software without the environment first might lead to critical errors and blues screens!

Changes 2.10.19.42350:

Fixed integration range issue in Log Analyzer

Changes 2.10.18.41937:

Fixed parameter inconsistencies occurred while network interruptions
Added support for C8492 PM5 and C8092 PM5
Added support for C8702 logger version 6

Changes 2.10.10.40638:

Added support for V*AP v2.0.1
Related Products
LoudnessLogger

License package J*AM - LoudnessLogger

Network enabled real-time measurement
Loudness measurement according to: EBU R128, ITU BS.1770 (all versions), ATSC A/85 and ARIB TR-B32, Free TV OP-59 and Portaria 354
Real-time metering of processing parameters, including true peak measurement
Long-term loudness logging (infinite, restricted by storage space only)
Off-line analysis of measurement data

product page