8 Channel Surround Audio Processor - D*AP8 FLX
Providing an adaptable approach to digital audio processing, the D*AP8 FLX offers complete flexibility from a choice of multiple I/O formats including AES, SDI, MADI, Dante® and analog, coupled with an extensive list of license based processing options to create a fully customized solution in an efficient and space saving 1RU form factor.
Designed to be easily upgradable through the installation of additional licenses, the D*AP8 FLX is a cost effective surround digital audio processor that can grow and expand to match the evolving needs of a wide range of applications in broadcast or production.
In it's entry-level form, the D*AP8 FLX provides four channels of AES audio I/O (4 x 2.0) with brickwall true peak limiting as standard. A choice of software-based licenses can be then be added to unlock an extensive range of algorithms and processes:
Level Magic loudness management
Based on a unique multi-loop control principle, the Level Magic algorithm provides adaptive wideband loudness control with exceptionally high audio quality that is free of coloration, pumping, distortion or modulation effects. Level Magic combines three major gain changing elements:
Adaptive AGC
Transient Processor

Distortion-free true peak limiter

Level Magic is designed to be audibly transparent and due to its highly adaptive nature, requires only a small number of parameters to be input during initial set up.

Dynamics Processing
The dynamics section comprises of an upward compressor that controls dynamic range but retains the micro dynamic structure, and an expander/gate to remove low-level noise without introducing artifacts.
Parametric EQ and Spectral Signature

A comprehensive 5-band Parametric EQ is coupled with Jünger Audio's Spectral Signature dynamic equalizer, a powerful creative tool allowing adaptive control of the spectral balance of your content. Spectral Signature analyzes incoming audio and compares its spectral structure with a predetermined "reference" curve. This allows dynamic EQ corrections to be applied only if necessary to achieve a consistent sound image and tonal balance.

Fail Over and Upmix
When broadcasting a mix of stereo and 5.1 content, it can be disturbing to viewers when the surround field collapses back to stereo and vice-versa. Upmix can be set to detect stereo only content and automatically create 5.1 in order to maintain a consistent surround experience. Existing 5.1 content will pass untouched. Fail Over ensures that if the primary signal is lost, the unit can switch automatically to a secondary back up feed.
Voice Over provides seamless integration of voice and program content in situations such as continuity announcements or video description with automatic ducking.
All system parameters are remotely accessible allowing the unit to be integrated and remotely operated by external control systems. An advanced built-in Event Management tool allows the remote loading of parameter presets either by hotkeys on the optional X*AP RM1 remote panel, by 8 onboard GPI/O's or by network commands using the Ember+ control protocol. This helps users to apply individual processing to their programs or content and thereby ensure maximum audio performance in all situations.
A web interface allows easy and intuitive setup and configuration from anywhere in your network. Most parameters are based on the principle of "set and forget" so with a small number of initial settings, the unit can be up and running on air within minutes. On screen metering and measurements are available for easy reference and a dedicated "mobile" UI is tailored specifically for smaller displays such as tablets or smartphones.
Interfaces and System Security
Audio I/O's range from on board native AES3 to optional 3G SDI including video delay, MADI, Dante® audio over IP and also analog. Power fail bypass relays are fitted as standard and with dual redundant PSU's and SNMP integration, the unit ensures maximum operational safety and peace of mind for today's critical 24/7 broadcast or content delivery facilities.

Key Features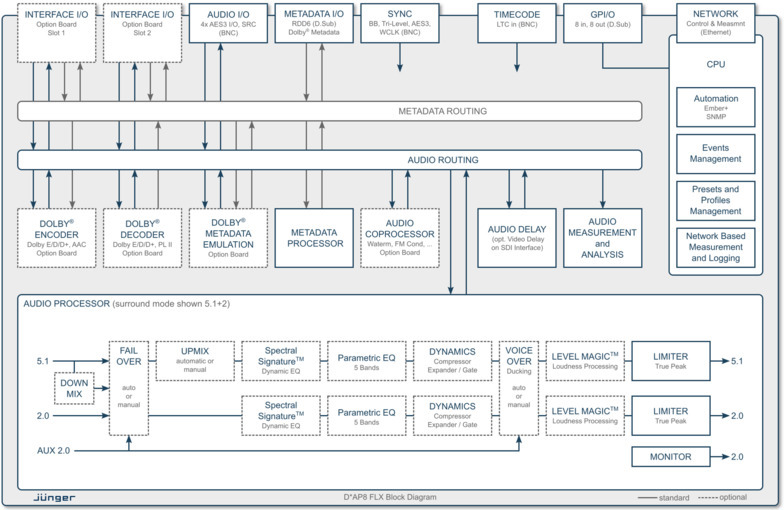 Multi channel / Multi format audio processing
Flexible feature set, configurable by licenses
True peak limiter
Level Magic loudness management (optional) according to: ITU-R BS.1770 (all revisions), EBU R128, ATSC A/85, ARIB TR-B32, Free TV OP-59 and Portaria 354
Optional Upmix and Fail Over functionality
Optional audio encoding & decoding: Dolby® Digital Plus, Dolby® Digital, Dolby® E, Pro Logic II
Dolby® Metadata management and optional emulation
Loudness measurement supporting all worldwide standards
Optional loudness logging software (J*AM)
On board interfaces: 4x AES/EBU I/O, Sync in, Sync out, Metadata I/O, 8 GPI/O
I/O modularity via 2 interface slots (e.g., 2 SDI streams)
Ethernet connectivity for set up and control via web browser
External control via network or GPI/O's
Power-fail bypass relays
19", 1RU device, redundant PSU
Versions & Options
D*AP8 FLX: D*AP8 base unit with flexible feature set
X*AP RM1: hardware remote control linked via Ethernet
Option Board 16ch SDI I/O (3G/HD/SD)
Option Board 4ch analog I/O
Option Board 8ch analog Out
Option Board 8ch AES/EBU I/O
Option Board 16ch Dante® Audio over IP
Option Board 16ch MADI I/O
Option Board Dolby® D / D+ / E Codec (licenses required)
License Dolby® D / D+ Encoder
License Dolby® E Encoder
License Level Magic loudness management
License Dynamics with compressor and expander
License EQ with parametric EQ and Spectral Signature
License Fail Over and Automatic Upmix
License Voice Over
License Dolby® D / D+ / E Decoder with Metadata Emulation
Applications
All Jünger Loudness control / - Management devices from all product lines share a neat feature: The gathered measurement data is made available for downstream measurement applications via Ethernet. Learn more about at Measurement and Logging Software Tools.
Changelog 2.10.19.42350 (2017-08-31):

ATTENTION!

Before installing the J*AM / Loudness Logger software under Windows 10, please download and install the latest Sentinel dongle GUI runtime environment:

https://supportportal.thalesgroup.com/csm?sys_kb_id=61fb0ee1dbd2e78cfe0aff3dbf9619ab&id=kb_article_view&sysparm_rank=2&sysparm_tsqueryId=29c80d7b1bd49410f2888739cd4bcb91&sysparm_article=KB0018320

Installing the J*AM / Loudness Logger software without the environment first might lead to critical errors and blues screens!

Changes 2.10.19.42350:

Fixed integration range issue in Log Analyzer

Changes 2.10.18.41937:

Fixed parameter inconsistencies occurred while network interruptions
Added support for C8492 PM5 and C8092 PM5
Added support for C8702 logger version 6

Changes 2.10.10.40638:

Added support for V*AP v2.0.1
Firmware
Changelog 5.1.9 (2022-08-18):

Firmware for D*AP8 FLX, TAP EDITION and CODEC EDITION

Changes 5.1.9:

fixed wrong relay bypass timing for SDI

Changes 5.1.8:

changed (Dante) includes DT-100 firmware version 3.2.0.8
changed (Dolby) support for latest hardware revision of Dolby Codec board
improved (Dante) Firmware based on 4.2.0 Audinate Brooklyn Firmware released
fixed (Dante) Dante Module display issue with long Current IP Adresses

Changes 5.1.6:

changed (SDI) includes SDI firmware version 53