8 Channel Surround Monitoring Audio Processor - D*AP8 MAP
The D*AP8 MAP is a multi purpose audio device comprising of an 8 channel audio monitor, an optional comprehensive Dolby® toolkit including metadata emulation, along with full loudness metering and logging capabilities. Supporting SDI, AES, MADI, Dante® and analog I/O, the unit can handle any audio format from mono to 7.1.
One D*AP8 MAP can replace up to seven no longer available Dolby® processors in one easy to operate unit.
Aimed at providing comprehensive quality control and loudness monitoring for anyone working in a production or broadcast environment, the D*AP8 MAP is the only Loudness processor on the market capable of covering a full Dolby® workflow and offering real-time metadata emulation as standard.
Its user interface combines loudness and dialnorm measurement, metadata emulation and setup and monitor control on one web page. It is optimized for mouse or touch operation and can also be used as a day-to-day interface, for example on a tablet computer. This significantly simplifies workflows, especially for those familiar with Dolby®'s in 2013 discontinued DP570 Multichannel Audio Tool.
The D*AP8 MAP audio processor features control and monitoring for up to eight channels of audio (4x2.0, 5.1+2.0, or 7.1 speaker configurations). Optional audio decoding and encoding (Dolby® E, Dolby® Digital Plus, Dolby® Digital or Pro Logic II) including full metadata management and emulation is available, along with 5.1 and 2.0 downmix. Network based loudness metering and optional logging complete the main feature set.
Selectable Primary and Secondary inputs allow easy switching between source signals for monitoring and auditioning of either surround or stereo mixes. A full downmix process facilitates monitoring of 7.1 – 5.1 or 5.1 – 2.0 to ensure predictable results for all end user speaker layouts. A speaker control section provides volume, solo, mute and matrix re-mapping for critical evaluation of audio quality from any channel to any speaker when used with the optional analog out board. The output section features full bass management for simulation of speaker configurations with or without subwoofers. Also included is a powerful 5-band parametric equalizer featuring full control of filter type, frequency, gain and Q factor. The final output stage includes speaker attenuation and a true-peak brickwall limiter.
accessDP - The Dolby Workflow Interface
The optional Dolby® Decoder makes the D*AP8 MAP the perfect choice for broadcast applications where the audio will be transmitted in either Dolby® Digital or Digital Plus formats, as it provides metadata emulation. Metadata parameters such as Dialnorm, Downmix and DRC are critical to ensure correct performance of the end user's decoder. The emulation function enables values to be verified or adjusted and the resulting audio auditioned in real time to be certain that the end user hears exactly what the mixer intended.
With the new accessDP user interface, Dolby® Metadata control and emulation becomes even easier. All relevant parameters are clearly arranged together on one screen. The new window is optimized for touch control and gives access to many parameters in daily use. Inspired by the features of the original Dolby® devices DP570 and LM100, users will instantly recognize the familiar, yet further improved design. AccessDP is a true Dolby Workflow Interface!
Learn more about how our D*AP8 MAP can replace no longer available Dolby® DP series devices in our Technical Recommendation paper!
Loudness Metering and Logging
For compliance with local regulations, loudness and true peak levels can be measured and transferred via Ethernet to the optional JAM software. All current loudness standards are supported including ITU-R BS.1770 (1, 2, 3) and recommended practices ATSC A/85, ARIB TR-B32, Free TV OP-59, Portaria 354 and EBU R128. A real-time plot of input levels can be displayed and logged to a destination folder anywhere on the network. A log file analyzer rebuilds the original plot for easy readout of historical data, whilst a log port router allows the JAM software to display up-to four measurements.
Control and Configuration
A web browser interface allows easy and intuitive setup and configuration of all the unit's parameters anywhere on your network, whilst a variety of on screen metering and measurements are available for easy reference. The optional X*AP RM1 Remote Panel gives direct control of volume, dim and speaker muting and includes a fully featured loudness meter display.
For integration into an automated production environment, all parameters are remotely accessible allowing the unit to be operated by external control systems and software. An advanced built-in Event Management tool allows the remote loading of parameter presets and settings either by hotkeys on the optional X*AP RM1 remote panel, by 8 onboard GPI/O's or by network commands using the Ember+ control protocol.
Interfaces and System Security
Audio I/O's range from on board native AES3 to optional 3G SDI including video delay, MADI, Dante® audio over IP and analog. Two interface expansion slots are available to allow for example digital audio in, and analog audio out, to drive monitor speakers directly. With dual redundant PSU's and SNMP integration, the unit ensures maximum operational safety and peace of mind for today's critical production or broadcast monitoring applications.
See our D*AP8 MAP tutorial video on YouTube!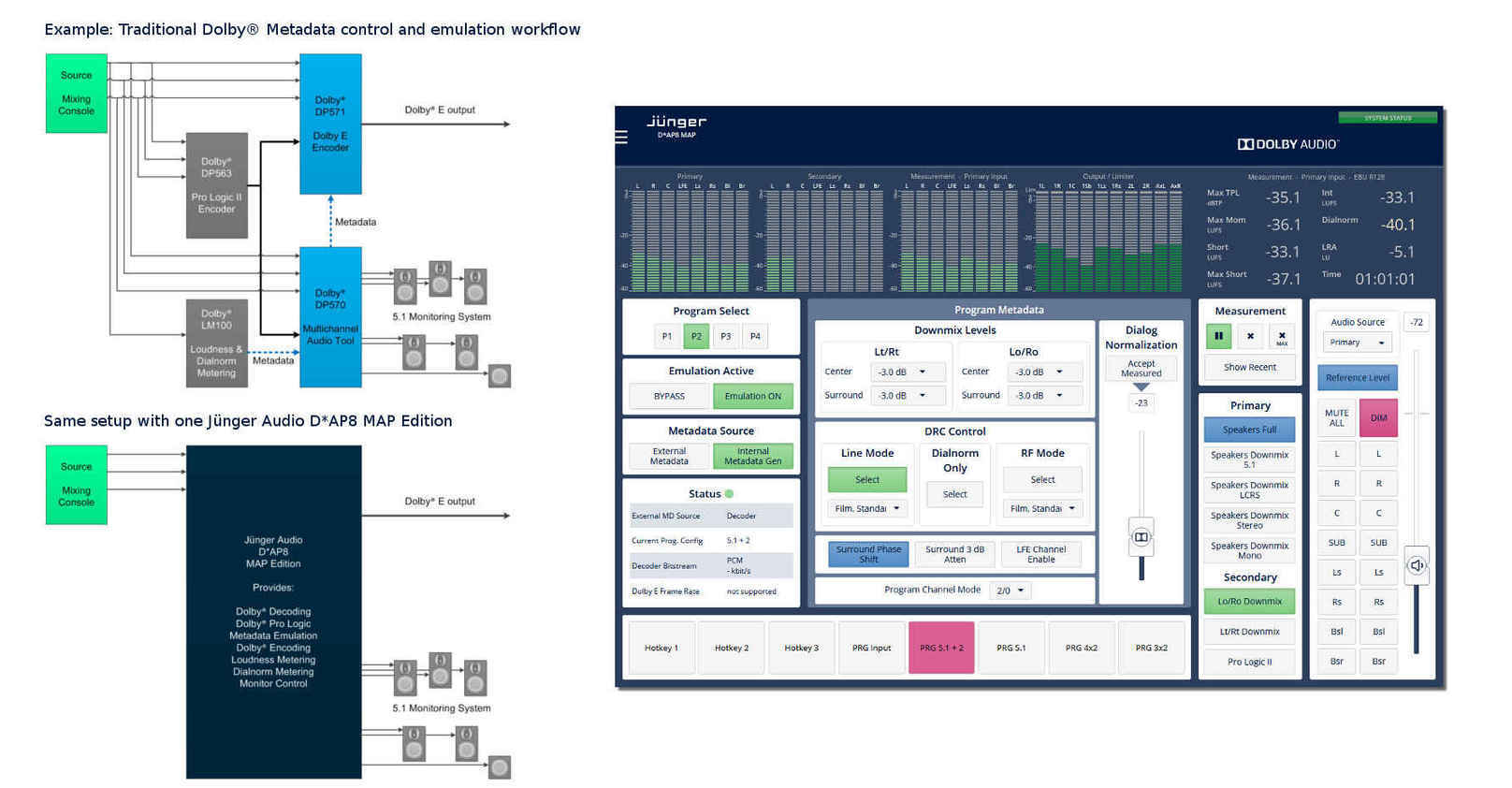 Key Features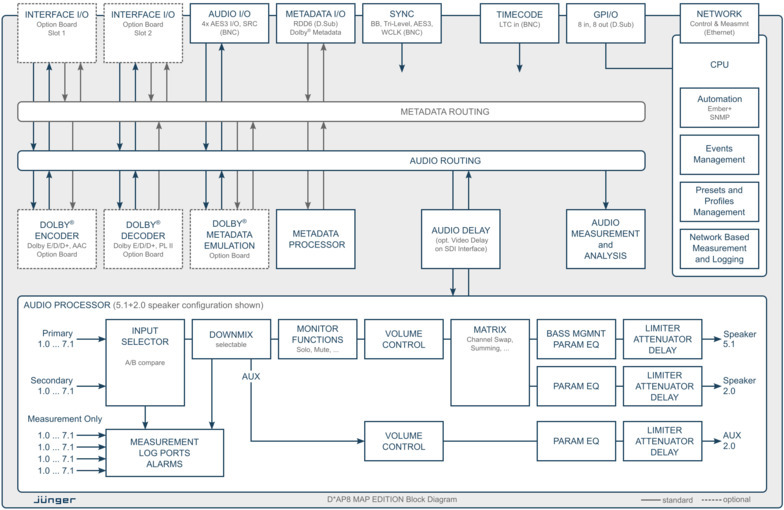 Multi channel / Multi format audio monitoring system (up to 7.1)
Loudness measurement supporting all worldwide standards
Multiple speaker connectivity with extensive solo/mute function
Speaker alignment, parametric EQ, delay, bass management
Downmix functionality
Dedicated log ports for network based measurement and logging
Optional audio encoding & decoding: Dolby® Digital Plus, Dolby® Digital, Dolby® E, Pro Logic II
Perfect replacement for Dolby®'s no longer available devices DP570, LM100, DP563 and DP571
Dolby® Metadata generation, processing and emulation with new user interface
Optional loudness logging software (J*AM)
On board interfaces: 4x AES/EBU I/O, Sync in, Sync out, Metadata I/O, 8 GPI/O
I/O modularity via 2 interface slots
Ethernet connectivity for set up and control via web browser
External control via network or GPI/O's
Power fail bypass relays
19", 1RU device, redundant PSU
Versions & Options
D*AP8 MAP: D*AP8 base unit plus MAP feature set
X*AP RM1: hardware remote control linked via Ethernet
Option Board 16ch SDI I/O (3G/HD/SD)
Option Board 4ch analog I/O
Option Board 8ch analog Out
Option Board 8ch AES/EBU I/O
Option Board 16ch Dante® Audio over IP
Option Board 16ch MADI I/O
Option Board Dolby® D / D+ / E Codec (licenses required)
License Dolby® D / D+ / E Decoder with Metadata Emulation
License Dolby® D / D+ Encoder
License Dolby® E Encoder
Applications
All Jünger Loudness control / - Management devices from all product lines share a neat feature: The gathered measurement data is made available for downstream measurement applications via Ethernet. Learn more about at Measurement and Logging Software Tools.
Changelog 2.10.19.42350 (2017-08-31):

ATTENTION!

Before installing the J*AM / Loudness Logger software under Windows 10, please download and install the latest Sentinel dongle GUI runtime environment:

https://supportportal.thalesgroup.com/csm?sys_kb_id=61fb0ee1dbd2e78cfe0aff3dbf9619ab&id=kb_article_view&sysparm_rank=2&sysparm_tsqueryId=29c80d7b1bd49410f2888739cd4bcb91&sysparm_article=KB0018320

Installing the J*AM / Loudness Logger software without the environment first might lead to critical errors and blues screens!

Changes 2.10.19.42350:

Fixed integration range issue in Log Analyzer

Changes 2.10.18.41937:

Fixed parameter inconsistencies occurred while network interruptions
Added support for C8492 PM5 and C8092 PM5
Added support for C8702 logger version 6

Changes 2.10.10.40638:

Added support for V*AP v2.0.1
Firmware
Changelog 3.0.5 (2020-10-05):

Firmware for D*AP8 MAP EDITION Monitoring Audio Processor

Changes:

changed (Dante) includes DT-100 firmware version 2.0.3.8
improved (Dante) Firmware based on 4.2.0 Audinate Brooklyn Firmware released
fixed (Dante) Dante Module display issue with long Current IP Adresses

Changes 3.0.4:

changed (SDI) includes SDI firmware version 53
changed (Dolby) Dolby D/D+/E de/encoder with revision 10 supported
fixed (Dolby) Dolby metadata reversion status in encoder B

Changes 3.0.3:

fixed (Dolby) Dolby CAT1100 Decoder startup behavior

Changes 3.0.2:

new feature (Loudness) loudness and level alarms with adjustable thresholds
new feature (SNMP) loudness and level alarms can trigger SNMP messages
new feature (Dolby) Dolby D/D+ Encoder now featured on newer CAT1100 boards
new feature (Log Ports) Log Ports can now carry a name that is transmitted to the J*AM software
new feature (Audio) reference volume can now be set and recalled (also from the new accessDP interface)
improved (Audio) manual stereo routing is now carried out simultaneously for both channels
improved (Interface) option boards without distinct firmware are now nevertheless shown on the Firmware Update page to provide better system overview
changed (accessDP) Internet Explorer is not supported for accessDP user interface
changed (Dolby Emulation) Dolby Metadata parameters Lo/Ro and Lt/Rt changed, new mandatory firmware 3.1.0.0!
fixed (Web UI) problem with disappearing checkboxes in some versions of Firefox
fixed (Events) removed unnecessary entries and gained naming consistency in measurement parameter events
fixed (Dolby) Dolby D-Encoder data rate works with IE11
fixed (Web UI) issue when setting crosspoints in Google Chrome
fixed (J*AM) Log Port level meters show all channels
fixed (Web UI) occasional problems with not reloading Web UI after backup restore
fixed (Preset Restore) problem with missing Log Port presets
fixed (Web UI) reboot reminder on telnet activation/deactivation
fixed (Web UI) small problem with parameters in metadata presets
fixed (Web UI) problems with EQ filter graphics
fixed (Events) parameter events can now be created from default
fixed (Web UI) several problems with Internet Explorer