SDI Interface and Level Magic processor - C8492B
The C8492B is a combination of SDI I/O interface with Level Magic loudness management, full dynamics processing, true peak limiting and optional 5.1 Upmix/Downmix.
Designed for use in C8000 modular systems, the C8492B offers de-embedding/re-embedding of 3G/HD/SD SDI streams and powerful DSP functions. Access to the C8000 frame's system bus is also provided allowing the transfer and exchange of audio and metadata with other cards in the frame.
Based on a unique multi-loop control principle, the Level Magic algorithm provides adaptive wideband loudness control with exceptionally high audio quality that is free of coloration, pumping, distortion or modulation effects. Level Magic combines three major gain changing elements:
• Adaptive AGC
• Transient Processor

• Distortion-free true peak limiter

The adaptive dynamic section includes an expander and upward compressor.
With the optional Upmix license, the unit can be set to detect stereo only content and automatically upmix to 5.1 in order to maintain a constant surround experience. Existing 5.1 content will pass untouched.

Key Features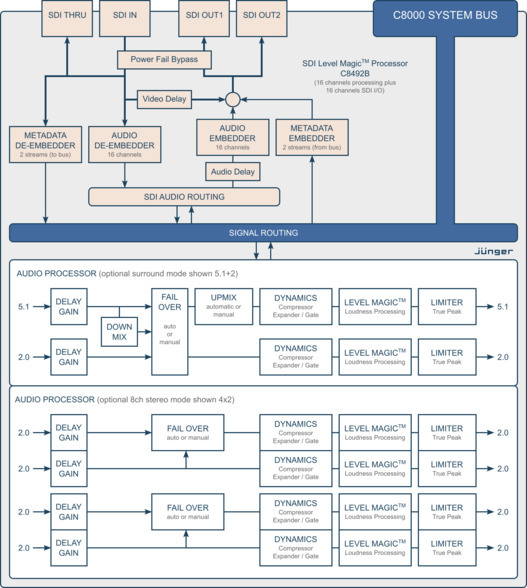 SDI (3G/HD/SD) embedder and deembedder for 16 audio channels
Level Magic 16ch loudness management: ITU-BS.1770 (all revisions), EBU R128, ATSC A/85, ARIB TR-B32, Free TV OP-59 and Portaria 354
Stressless processing of unlocked SDI streams
Setup and configuration via web interface
More Features:
Optional 5.1 Upmix
Dynamics with compressor and expander/gate
Power-fail bypass relays for SDI signal
Automatic fail-over
Versions & Options
Upgrade to 8ch, (4x 2.0) audio processing
Upgrade to 16ch, (8x 2.0) audio processing
Upgrade to 8ch, (5.1+2.0) or (4x 2.0), mixed mode stereo and surround/upmix
Upgrade to 16ch, 2x [(5.1+2.0) or (4x 2.0)], mixed mode stereo and surround/upmix
Applications
Changelog 2.10.19.42350 (2017-08-31):

ATTENTION!

Before installing the J*AM / Loudness Logger software under Windows 10, please download and install the latest Sentinel dongle GUI runtime environment:

https://supportportal.thalesgroup.com/csm?sys_kb_id=61fb0ee1dbd2e78cfe0aff3dbf9619ab&id=kb_article_view&sysparm_rank=2&sysparm_tsqueryId=29c80d7b1bd49410f2888739cd4bcb91&sysparm_article=KB0018320

Installing the J*AM / Loudness Logger software without the environment first might lead to critical errors and blues screens!

Changes 2.10.19.42350:

Fixed integration range issue in Log Analyzer

Changes 2.10.18.41937:

Fixed parameter inconsistencies occurred while network interruptions
Added support for C8492 PM5 and C8092 PM5
Added support for C8702 logger version 6

Changes 2.10.10.40638:

Added support for V*AP v2.0.1