2 Channel Voice Audio Processor - D*AP4 VAP
The fully featured dual mono or stereo D*AP4 VAP contains a suite of performance enhancing and creative audio processes dedicated to extracting the maximum potential quality from voice audio with dependable consistency. Flexible I/O options include AES, analog, 3G SDI, MADI, Dante® Audio over IP and high quality mic pre-amps.
Aimed at applications including radio broadcast, TV voice over and audio post production, the D*AP4 VAP is designed to ensure that vocal quality and accuracy is always maintained at its best from program to program and day to day.
The D*AP4 VAP features a two channel voice signal path and separate stereo program path for either standalone voice processing, or to provide automatic or manual integration of voice and program signals. An optional microphone pre-amp allows direct input to the dedicated voice path to maintain complete control of the overall voice presentation. The range of on-board signal processing comprises of:
As a creative tool, the M/S Matrix uses two mics placed closely together to capture and produce variable width stereo recordings.
The Phase Rotator automatically detects imbalanced audio waveforms and restores symmetry to prevent transients that may unnecessarily trigger downstream processing.
The De-Esser greatly reduces the effect of excessive sibilance from spoken voices.
Parametric and Dynamic EQ
A 5-band Parametric EQ is coupled with Spectral Signature dynamic equalizer, a powerful creative tool allowing adaptive control of spectral balance. Incoming audio is analyzed and its spectral structure is compared to a predetermined "reference" curve. This allows dynamic EQ corrections to be applied only if necessary to achieve a consistent sound image and tonal balance.
In addition to a traditional upward compressor, a threshold based downward compressor is also included. Both types adaptively adjust timing parameters based on the incoming audio structure. An expander/gate effectively removes low-level noise without introducing artifacts.
To assist in loudness based programming, a voice leveler can be used to pre-condition the voice component prior to combining it with the program element.
Voice Over provides seamless integration of voice and program content in situations such as continuity announcements or video description with automatic ducking.
Level Magic Loudness Management
Based on a unique multi-loop control principle, the optional Level Magic algorithm provides adaptive wideband loudness control with exceptionally high audio quality that is free of coloration, pumping, distortion or modulation effects. The optional J*AM software displays input v/s output levels and can log long term values to a destination folder anywhere on the network.
All system parameters are remotely accessible allowing the unit to be integrated and remotely operated by broadcast control systems. An advanced built-in Event Management tool allows the remote loading of parameter presets either by hotkeys on the optional X*AP RM1 remote panel, by 8 onboard GPI/O's or by network commands using the Ember+ control protocol. This makes it easy to assign individual settings to each user and re-call them instantly.
A web interface allows easy and intuitive setup and configuration from anywhere in your network. On screen metering and measurements are available for easy reference.
A dedicated "mobile" UI is tailored specifically for smaller displays such as tablets or smartphones and offers fast access to user profiles and commonly required functions such as Cough Cut and Voice Over.
Interfaces and System Security
Audio I/O's range from on board native AES/EBU to optional 3G SDI including video delay, MADI, Dante® audio over IP, analog and high quality mic pre-amps. Power fail bypass relays are fitted as standard and with dual redundant PSU's and SNMP integration, the unit ensures maximum operational safety and peace of mind for today's critical 24/7 radio and TV broadcast or audio production facilities.

Key Features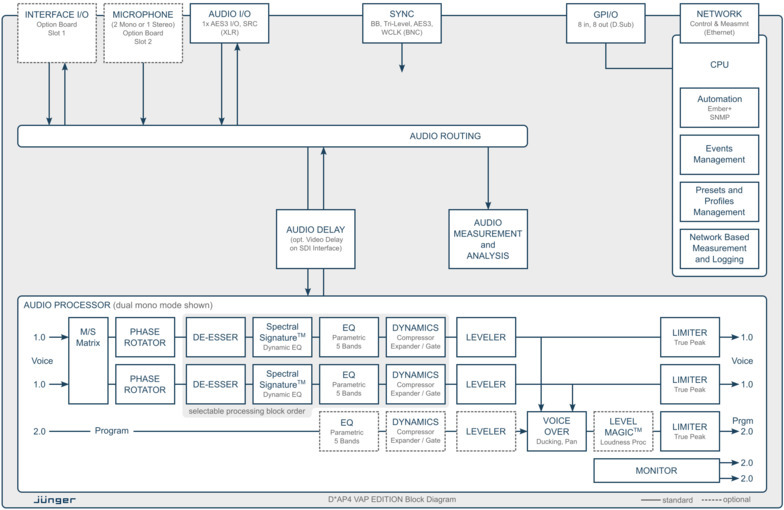 Dual mono or stereo voice channel configuration
2 channel program path in addition to voice channels
Algorithms specialized for voice processing
Sophisticated user profile management
De-Esser
5 band Parametric EQ and Spectral SignatureTM dynamic EQ
Dynamics with upward/downward compressor and expander/gate
Voice leveler
Voice Over functionality
True peak limiting
Optional Level Magic loudness management compliant with all current standards and recommendations
Optional loudness logging software (J*AM)
Ethernet connectivity for set up and control via web browser
External control via network or GPI/O's
Power-fail bypass relays
19", 1RU device, redundant PSU
Versions & Options
D*AP4 VAP: D*AP4 base unit plus VAP feature set
X*AP RM1: hardware remote control linked via Ethernet
Option Board 16ch SDI I/O (3G/HD/SD)
Option Board 4ch analog I/O
Option Board 8ch analog Out
Option Board 8ch AES/EBU I/O
Option Board 16ch Dante® Audio over IP
Option Board 16ch MADI I/O
Option Board Analog Line in/Mic-in
License Level Magic Loudness Management
Applications
All Jünger Loudness control / - Management devices from all product lines share a neat feature: The gathered measurement data is made available for downstream measurement applications via Ethernet. Learn more about at Measurement and Logging Software Tools.
Changelog 2.10.19.42350 (2017-08-31):

ATTENTION!

Before installing the J*AM / Loudness Logger software under Windows 10, please download and install the latest Sentinel dongle GUI runtime environment:

https://supportportal.thalesgroup.com/csm?sys_kb_id=61fb0ee1dbd2e78cfe0aff3dbf9619ab&id=kb_article_view&sysparm_rank=2&sysparm_tsqueryId=29c80d7b1bd49410f2888739cd4bcb91&sysparm_article=KB0018320

Installing the J*AM / Loudness Logger software without the environment first might lead to critical errors and blues screens!

Changes 2.10.19.42350:

Fixed integration range issue in Log Analyzer

Changes 2.10.18.41937:

Fixed parameter inconsistencies occurred while network interruptions
Added support for C8492 PM5 and C8092 PM5
Added support for C8702 logger version 6

Changes 2.10.10.40638:

Added support for V*AP v2.0.1
Firmware
Changelog 2.0.8 (2020-05-11):

Firmware for D*AP4 VAP EDITION Voice Audio Processor

Changes 2.0.9:

changed (Dante) includes DT-100 firmware version 2.0.3.8
improved (Dante) Firmware based on 4.2.0 Audinate Brooklyn Firmware released

Changes 2.0.8:

fixed (Microphone) inconsistency with line/pad after reboot