Dual Stereo Level Magic Audio Processor - EASY LOUDNESS AoIP
With dual stereo processing channels, integrated Dante®/AES67 I/O and optional logging features EASY LOUDNESS AoIP is the ideal solution for automatic and intelligent real-time loudness management. Jünger Audio's integrated Level Magic process ensures maximum audio quality and compliance with all worldwide loudness standards.
Overview
Ideally suited for stereo broadcast and production, the EASY LOUDNESS AoIP audio processor is designed to ensure that audio levels and loudness are automatically kept under control – from program to program and day to day.
Featuring comprehensive Level Magic loudness control, fail over switching and true peak limiting for two independent stereo programs, sourced from Dante®/AES67 or AES.
Level Magic
Based on a unique multi-loop control principle, the Level Magic algorithm provides adaptive wideband loudness control with exceptionally high audio quality, without coloration, pumping, distortion or other modulation effects. Level Magic is designed to be audibly transparent and process adaptively with minimal user interaction. Level Magic is compliant with all current broadcast audio loudness recommendations based on the ITU-R BS.1770 standard as well as the derived recommended practices ATSC A/85, ARIB TR-B32, Free TV OP-59, Portaria 354, EBU R128 and more.
Loudness Measurement and Logging
For compliance with local regulations, loudness and true peak levels can be measured and monitored directly from the web browser interface. Simultaneously all data is transmitted via Ethernet to the J*AM measurement and logging software (license option), providing comprehensive file logging, live monitoring and offline analysis.
Fail Over
With its integrated fail over system, EASY LOUDNESS AoIP is able to switch to a backup signal path, in case the main feed gets lost. The AES stereo input can be used as a fallback input if the Dante®/AES67 signal is interrupted
New Easy Web Configuration
Enabling easy and intuitive setup and configuration from anywhere in your network, a browser-based web interface with a newly designed 'home' page allows for fast set-once-and-forget operation. Onscreen metering and measurements are available for easy reference and a dedicated 'Mobile UI' is tailored specifically for touch-screen, tablet and smartphone access.
Physical Interfaces
EASY LOUDNESS AoIP is fitted with a Dante®/AES67 interface with full network control and local routing for up to 8 audio channels (e.g. main feeds and backup channels). Additionally a stereo AES interface with physical XLR and BNC (AES3id) connectors is installed.
System Security
With dual redundant PSUs, automatic sync source switching, power fail bypass relays and SNMP monitoring, the unit ensures maximum operational safety.
System Integration
All system parameters can be remote controlled via Ember+ control protocol enabling any broadcast automation system to fully operate and virtualize the device. A Snapshot functionality was developed for simple and easy loading of presets by GPI, network or physical Hotkeys (optional X*AP RM1).
See our Easy Loudness tutorial video on YouTube!

Key Features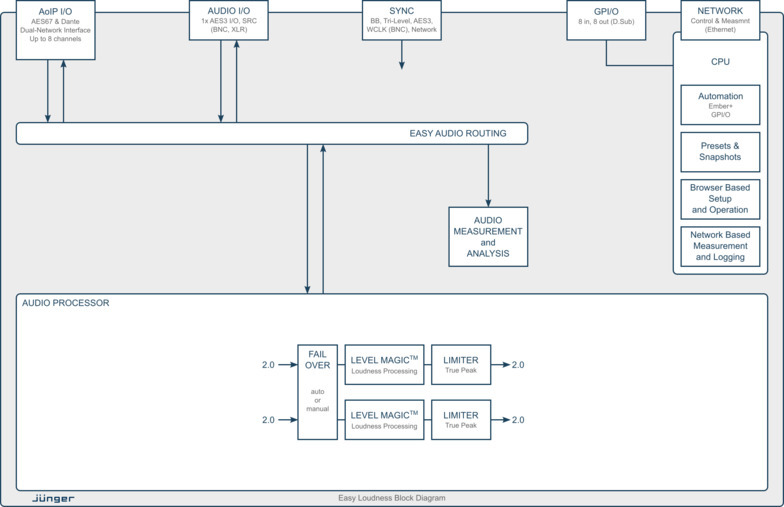 Level Magic loudness management according to: ITU-R BS.1770 (all revisions), EBU R128, ATSC A/85, ARIB TR-B32, Free TV OP-59 and Portaria 354
Loudness measurement supporting all worldwide standards
True peak limiter
Dual stereo audio processing
Fail Over with signal loss detection
On board interface: 1x AES/EBU I/O (XLR & BNC), 1x Dante®/AES67 I/O, Sync in, Sync out, 8 GPI/O
Easy Web Configuration
Optional loudness logging software (J*AM)
Ethernet connectivity for set up and control via web browser
External control via network or GPI/O's
Power-fail bypass relays
19", 1RU device, redundant PSU
Versions & Options
X*AP RM1: hardware remote control linked via Ethernet
Applications
Changelog 2.10.19.42350 (2017-08-31):

ATTENTION!

Before installing the J*AM / Loudness Logger software under Windows 10, please download and install the latest Sentinel dongle GUI runtime environment:

https://supportportal.thalesgroup.com/csm?sys_kb_id=61fb0ee1dbd2e78cfe0aff3dbf9619ab&id=kb_article_view&sysparm_rank=2&sysparm_tsqueryId=29c80d7b1bd49410f2888739cd4bcb91&sysparm_article=KB0018320

Installing the J*AM / Loudness Logger software without the environment first might lead to critical errors and blues screens!

Changes 2.10.19.42350:

Fixed integration range issue in Log Analyzer

Changes 2.10.18.41937:

Fixed parameter inconsistencies occurred while network interruptions
Added support for C8492 PM5 and C8092 PM5
Added support for C8702 logger version 6

Changes 2.10.10.40638:

Added support for V*AP v2.0.1
Firmware
Changelog 4.5.6 (2020-11-09):

Firmware for D*AP4 FLX and LM Edition and Easy Loudness - NOT for legacy DAP LM4!

Changes 4.5.6:

changed (Dante) DT-100 firmware version to 3.2.0.8

Changes 4.5.5:

changed (Dante) includes DT-100 firmware version 2.0.3.8
improved (Dante) Firmware based on 4.2.0 Audinate Brooklyn Firmware released
fixed (Dante) Dante Module display issue with long Current IP Adresses

Changes 4.5.4:

changed (SDI) includes SDI firmware version 53

Changes 4.5.3:

improved (Events) added power supply parameter trigger
Related Products
X*AP RM1

J*AM

Jünger Application Manager - J*AM

Manages free or license-based applications for connected devices
Loudness measurement according to: EBU R128, ITU BS.1770 (all versions), ATSC A/85 and ARIB TR-B32, Free TV OP-59 and Portaria 354
Real-time metering of processing parameters, including true peak measurement

product page

LoudnessLogger

License package J*AM - LoudnessLogger

Network enabled real-time measurement
Loudness measurement according to: EBU R128, ITU BS.1770 (all versions), ATSC A/85 and ARIB TR-B32, Free TV OP-59 and Portaria 354
Real-time metering of processing parameters, including true peak measurement
Long-term loudness logging (infinite, restricted by storage space only)
Off-line analysis of measurement data

product page