Audio Leveler
For convenient listening under any condition, whether in a quiet living room with a hi-fi playback system, mobile on the go or in the car: take full control of your levels with the audibly transparent Jünger Audio leveler algorithms.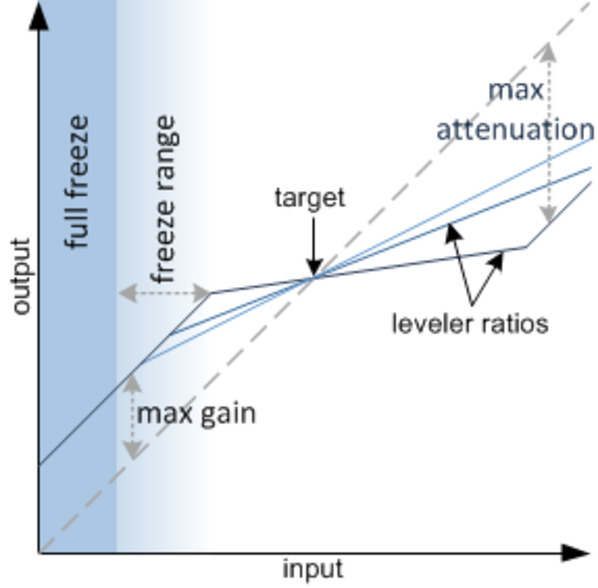 Although content-related passages of loud and soft levels should not get 'squashed', the listener must not feel any need to re-adjust the volume control after finding a comfortable playback level.
This is where Level Magic™ can play to its strength.
Operating in its powerful proprietary 'Level Mode'. the perceived level of your audio sources is automatically adjusted to a pre-defined target value by our Level Magic™ algorithm.
The system works with a multi-stage design. The first stage is the Transient Processor, taking care of problems with short signal bursts, so called transients. They carry little energy and thus their contribution to the perceived loudness is very limited.
The second stage is an Adaptive Gain Control (AGC) network, leveling the overall signal energy to keep the loudness persistent. The user can adjust the overall system characteristics from relaxed to aggressive, while the algorithm automatically adapts its parameters to the incoming audio signal. This is to guarantee the best performance under all conditions, without artifacts like pumping or breathing.
The Level Magic™ technology has proven its effectiveness and leading audio quality in over 25 000 installations worldwide.
Level Magic™ can be used to create consistency over one continuous audio stream or with switching sources. Also, with its adaptive abilities it is suitable for single channel sources, like voice or instrument inputs, as well as bus duties and multichannel outputs.
It is designed to work autonomous and unmonitored, but also allows for automated or manual parameter adjustment and control. This opens up potential use cases to a vast amount of scenarios.
Ranging from studio and live production, broadcast master busses, distribution chains, to customer head units, playback devices, public address systems and many more.
With multiple sources, a combination of instances working in Level Mode in all input channels and one loudness standard normalization instance on the summed output side can yield excellent results.
Level Magic™ at a glance:
High performance loudness management
Unmatched audio quality without annoying artifacts
Ideal for stand-alone operation
Optimized for all international loudness regulations
Compliant with ITU-R BS.1770 (all revisions), EBU R128, ATSC A/85, ARIB TR-B32, Free TV OP-59, Portaria 354 and more
Related products